If this year's cycle of fashion trends has shown us anything, it's that everything ultimately reemerges in fashion. Nostalgia is currently in style, from the biker shorts to the high-waisted jeans from the 1990s that have made a comeback.
Early in the 2010s, the fashion industry adopted a more minimalist look, and the Y2K trend took backstage. However, the Y2K fashion started coming back around 2020 when millennials started to embrace the nostalgic looks and started seeking ways to repurpose vintage items from the era.
When it comes to the Y2K fashion revival this year, there is a clear-cut list of both new and old labels that were crucial in bringing back early 2000s mainstays. Let's check out these fantastic Y2K brands.
10. 
Von Dutch
Source: https://vondutch.com/
How can we not talk about hats now that we've discussed clothing, footwear, and bags? The popular kids wore Von Dutch trucker hats in the 2000s. However, these hats lost their craze after 2003. The Y2K hat is returning as of 2022. You can see celebrities like Rihanna and Gwen Stefani wearing trucker hats. Von Dutch has now released several Y2K original styles because it is back in trend! Along with its recognizable trucker hats, the company also sells its distinguishing bowling bags and t-shirts.
9.
JW Pei
Source: JW PEI Official Site
Fendi introduced the first baguette bag in 1997, and Sex and the City's episode featuring it helped make the style more well-known. In the 2000s, bags in the "baguette" style were trendy. It is, therefore, no surprise that even celebrities became only a few of JW Pei's well-known followers when the company introduced its contemporary interpretation of the fashion for less than one hundred dollars. The adaptable design, offered in various colors and fabrics, has become known as one of the year's must-have bags.
8.
Naked Wolfe
Source: nakedwolfe.com
When discussing Y2K fashion, footwear plays a significant role as well. Naked Wolfe is one of the top brands when it comes to stylish footwear. You might be surprised to learn that it wasn't an original Y2K apparel store, given that it was launched in 2017. However, their incredibly popular platform shoes have a very Y2K vibe. Stars including Ariana grande, Bella Hadid, and Olivia Rodrigo have been spotted wearing their sneakers, stacked flatform shoes, and boots.
7.
Blumarine
Source: https://www.blumarine.com/en/
Blumarine is perfecting all the essential characteristics of the early 2000s, capitalizing on the market's affection for that period. Everything the brand has created in its new age, from butterfly tops to gradient eyelashes to pleated micro-mini skirts and some unique crystal logo belts, has merely demonstrated that the nostalgic craze is here to stay.
6.
Ed Hardy
Source: edhardyoriginals.com
One of the fashion Y2K brands seeing a 2022 rebirth is Ed Hardy. This fashion brand is quite famous for its graphic t-shirts and trucker caps. This brand is drawing a long time, and new followers due to its amazing new Y2K inspired designs. You can see influencers and celebrities such as Niki DeMar and Bella Hadid in vintage and new Ed Hardy clothing.
5.
Miaou
Source: Miaou —  Home
Do you know that Miaou is a French word for meow? Well, apart from this information, what you should really know is that Miaou is one of the most recognizable brand names when it comes to Y2K fashion. You must have seen celebrities and influencers adorning their unique corsets, mini skirts, etc.
4.
True Religion
Source: https://www.truereligion.com/
True Religion is one brand you must not miss when it comes to Y2K fashion. True Religion was undoubtedly one of the coolest denim companies in the early 2000s. In the late 2000s, True Religion saw some decline, but it made an astonishing comeback in 2020. This brand's new Y2K jeans range includes classic details like horseshoe pockets, contrast stitching, and emblems, along with upgrades like camouflage designs and pink mineral washes.
3.
Poster Girl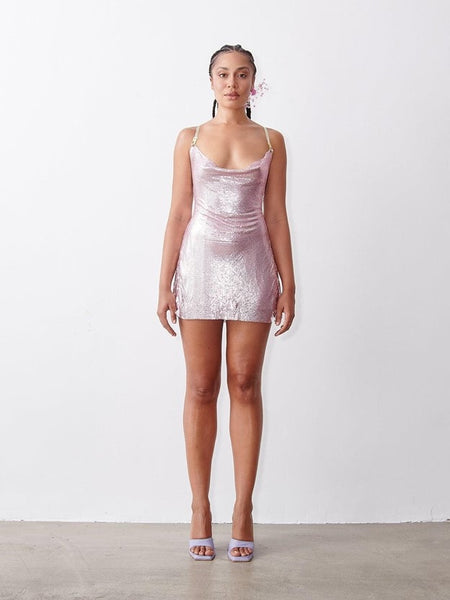 Source: https://poster-girl.com/
Well, as you can understand by the brand name, the Poster girls are well known for their y2k inspired fashion. This fashion brand was founded by Natasha Somerville and Francesca Capper. And you must have seen this brand a lot on Instagram. GenZ is embracing its Y2K clothes. Their candy-colored dress is inspired by the famous chainmail dress worn by Paris Hilton in 2002.
2.
Mirror Palais
Source: Mirror Palais
You may be familiar with the New York-based Y2K company Mirror Palais for its fairy dress that sweeps the internet. It was a huge trend, the dress was sold out within minutes, and there was a massive waiting list. The brand's Y2K fashion came into the limelight when Bella Hadid wore one of its outfits on Instagram. Fans went crazy over the shimmering dress. The micro-mini style inspired the dress from the movie My Date With the President's Daughter. This is what made the brand famous. Other well-known admirers of this brand include Dua Lipa and Kendall Jenner, both of whom have gained popularity for their Y2K-inspired street style.
1.
Juicy Couture
Source: juicycouture.com
Juicy Couture's velour tracksuit is the one item that perfectly captures Y2K fashion. Celebrities like Kim Kardashian and Paris Hilton, the fashion goddess, are fans of the Couture Y2K style tracksuit. The Gen Zers who were not old enough to remember it during its peak is now sporting their Y2K clothes. Juicy Couture experienced a little drop in sales in 2006; after partnering with companies like Poshmark, Ganni, and DePop, the brand experienced a resurgence.
The company has drawn inspiration from the history of the famous velour tracksuit to recreate the two-piece look with a sustainable twist. The classic Y2K attire now comprises cotton and polyester that has been recycled from pre-consumer waste and is certified organic. 
Conclusion
Summing up, it's trendy to dress in Y2K-inspired clothes. And if this goes on like this, there is nothing wrong with predicting that the iconic late 1990s and early 2000s fashions will return in the upcoming year, including hot pink everything, baguette bags, bedazzled logos, low-rise jeans, and more. So, if you want to get your hands on some of the fantastic Y2k fashion, now you know where to look.
If you're looking for ONE place where you can find everything you need to rock the Y2K, then our website is surely the best option. We have more than 600+ Y2K inspired clothes and accessories and also +150 reviews.
So make sure to have a look at our different collections such as: hoodies, sweaters, sunglasses and our general Y2K clothing collection.